As we all know ,doypack machine was most used in many type of premade bags ,such as pillow bag ,3 side bag ,4 side bag ,8 side quad seal bag(box pouch) kraft bag and spout bags and so on .
There are three type doypack machine machine for premade bag:
8 station rotary doypack machine
Horizontal doypack machine
single station doypack machine
We called horizontal doypack machine and single doypack machine by Mini Doypack Machine
For many small factory or someone who want to start new business ,or someone whose product production capacity not much ,8 station rotary doypack machine not good choice
Based on above situation,Landpack research and development horizontal doypack machine and mini single station doypack machine ,today I will introduce our two type mini doypack machine
First is horizontal doypack machine features:
Small footprint
Simple structure
Easy to operate
Easy to maintain
Save costs
The packaging speed is 35-45 per minute, which is comparable to the 8-station bag feeding machine
But the price is much cheaper than the eight-station bagging machine
Greatly reduces costs
Landpack Horizonta and single stationl doypack machine advantages:
Features of the Landpack Horizontal Bag Feeder
1. Installation device: when the working air pressure is abnormal or the heating tube fails, an alarm will prompt and the machine will stop working
2. Wide range of packaging, suitable for prefabricated bags made of multi-layer composite films such as single-layer PE, PE composite material, CPP composite material, aluminum foil material, etc.
3. Implement self-automatic detection and information feedback function. In the production process, if there is no packaging bag or the packaging bag is not opened, the detection device will not fill, not seal, automatically stop, save packaging materials and raw materials, and avoid packaging sites. pollute.
4. For food and medicine packaging machine, it is easy to clean, and the parts in contact with food and medicine are made of 304 stainless steel, which meets the hygiene and safety requirements of medicine and food.
5. High degree of automation, PLC+touch screen control, intelligent operation, simple and convenient
There are 3 kinds of horizontal doypack machine for liquid ,powder ,granule as ablow
A.Horizontal doypack machine for granule
Horizontal doypack machine main packer for packaging
Multiheads weigher for weighing
Z type elevator for feeding product
Support platform for scales

B.Horizontal doypack machine for powder
Horizontal doypack machine main packer for packaging
Screw conveyor for feeding powder
Auger metering machine for measuring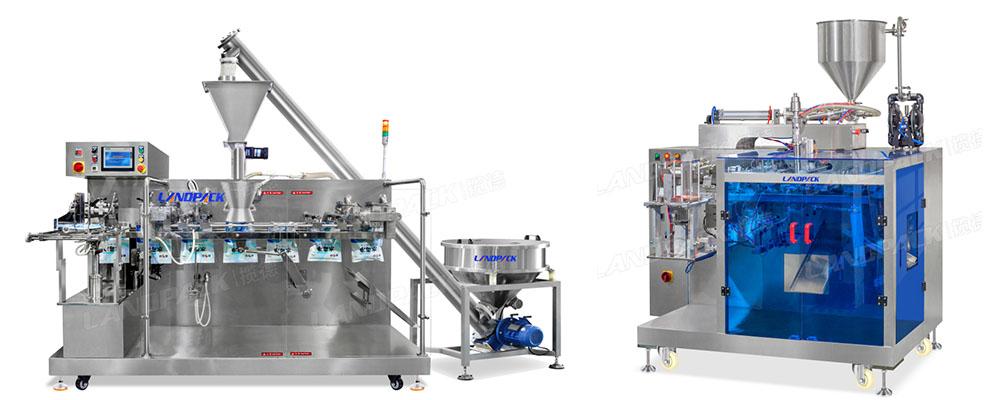 C.horizontal doypack machine for liquid
Horizontal doypack machine main packer for packaging
Piston pump for measuring
Below are horizontal doypack machine working process:

Single station doypack machine most features are same as horizontal doypack machine
But only the single station doypack machine speed only 5-10 bags per minute ,price also will be cheaper than horizontal doypack machine ,now I will introduce single station doypack machine
There 3 kinds of single station doypack machine
A.single station doypack machine for granule
Single station doypack machine for granule
Single stationl doypack machine main packer for packaging
Multiheads weigher for weighing
Z type elevator for feeding product
Support platform for scales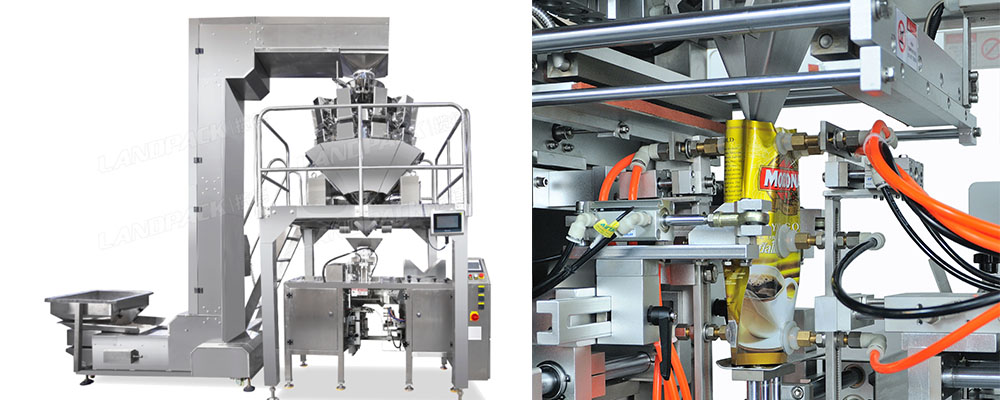 B.Single station doypack machine for powder
Horizontal doypack machine main packer for packaging
Screw conveyor for feeding powder
Auger metering machine for measuring

C.single station doypack machine for liquid
But single station not best choice for liquid ,most customer will choose single station doypack machine for granule and powder large package ,choose horizontal doypack machine for liquid
Below are single doypack machine working process:
Ok if you want to know more information about our horizontal doypack machine and single station doypack machine ,please contact us as below information