Once you decide to choose premade bag packing machine to automatically finished all working process from open bags, fill material and sealing the premade bag, you should do carefully researching because there are so many brands to consider.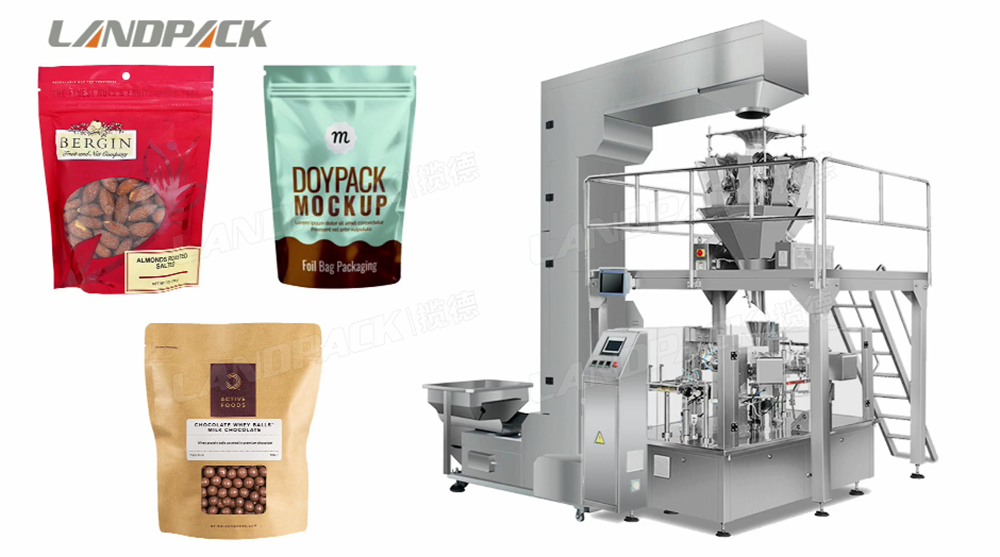 1.The quality of the machine:
In addition to the reasonable price, the quality should always be put in the first place. You never need to worry about the quality of Land pack Premade bag packing machine , because the whole main frame of our main machine is made of stainless steel Food Grade Material. The Structure is strong, stable and firm, and the bagging machine will look basically the same as when you get it, even after using it for ten years.
2.Electrical configuration:
You can say that the key component of a machine is the life of the machine. PLC is equivalent to the brain of the machine, while touch screen and servo motor are equivalent to the facial features and limbs of the machine. Their quality and durability directly determine the service life of the machine, so they are great important to focus on the brands of these configurations. Landpack's Rotary Type Premade bag packing machine adopts the world's famous brand. Siemens PLC and touch screen, and other supporting equipment are also well-known international brands.
Therefore, it provides enough support for the stable and normal use of the machine for 8 to 10 years or longer service time.
3.Know the function of each station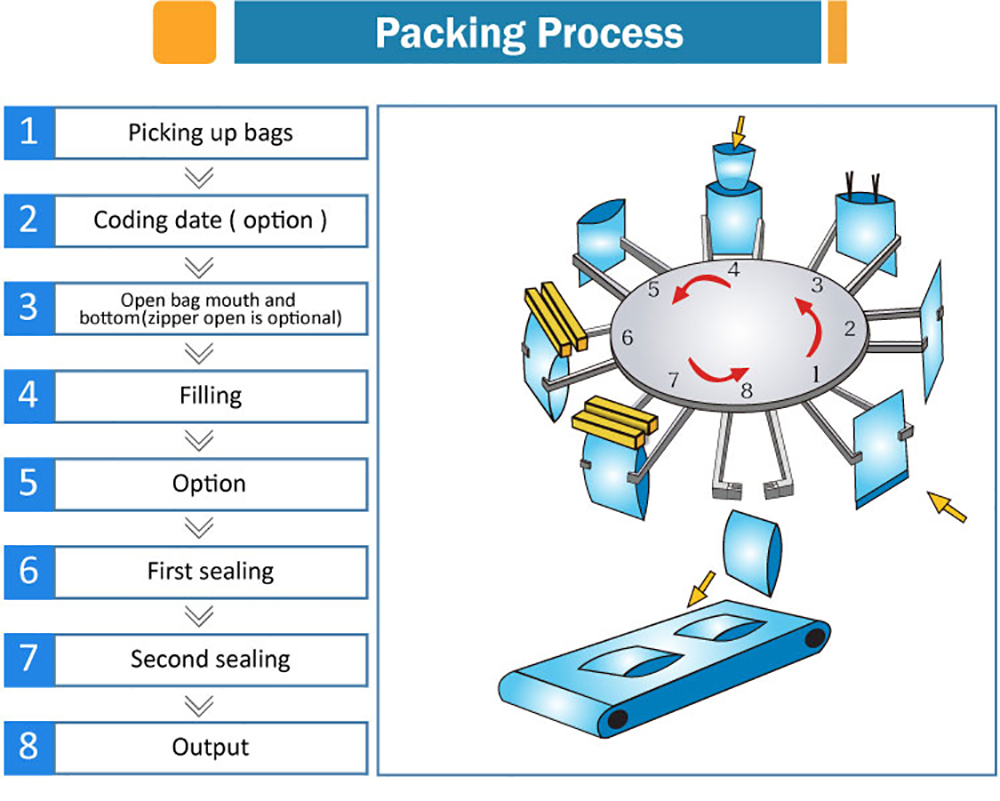 Make sure you fully understand the role and function of each station. For example, how to give the bag, how to open the bag, how to filling the material, how to printing code, how to seal, you need to know what operations will need to perform when adjust on each station. Making sure the equipment achieves the finished packaging bag is perfect same as what you want.
Because the end consumer will only decide whether to buy your product based on the appearance of the final package.
4.Make sure parts are readily available:
We know that all machines needs frequent maintenance, and some parts are consumable parts that need to be replaced regularly; if the wearing part is broken and when you go to the supplier to get it, he informs you that you will have to wait weeks or more. That could cause long downtime, and may have a big impact on production efficiency. So be sure that your wearing parts toolbox will always have 1~2 sets of wearing parts as backup. If not, at least make sure that the supplier can provide you with avaliable stock soon.
Land package Machinery usually distributes some wearing parts for customers for free in the toolbox. Even if it is a temporary replacement, most of us have stock and can be shipped at any time. Or if there is no stock, it not a problem to prepare them and ship in about 7 days. So no need to worried about this issue.
5.Figure out you are dealing with a manufacturer or just an importer
If your supplier is just a reseller, it's better to ensure that they have their own brand and can control the machines they are selling. In many cases, dealers often just import and resell factories' machines, and they cannot provide after-sales service.
What if you make the purchase from them. Then they lost the agency for this product, or he himself suddenly goes bankrupt, are you sure you can find someone who can after-sale service? This is a serious problem.
Land packaging machinery has more than over 15 years working experience in the packaging industry and has a very reliable R&D and after-sales team. And can provide after-sales service at any time.
6.Cost-effective
Don't just focus on the price, be sure to pay attention to the overall cost of the machine. For example, the efficiency of production, the convenience of operation, the convenience of cleaning, and the most important thing is the guarantee of after-sales. Considering the above factors, make a wise choice.